A Conversation with Former U.S. First Lady Michelle Obama
Michelle visited Vancouver yesterday, and we just had to meet since it was her first ever visit to Vancouver! This was at a moderated event hosted by The Greater Vancouver Board of Trade and We for She at the Queen Elizabeth Theatre.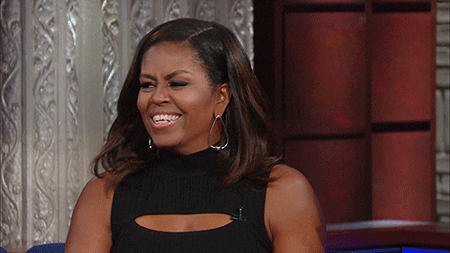 What do YOU think when you think of the former FLOTUS? Grace, Intellect, Humour, Power and Social Change are all the words that come to my mind. But why she really spoke to me yesterday is because she's a woman of color, a mother of two children, married, a Harvard and Princeton grad, and she's made real social change (while always being relevant, cool and hilarious).
Naturally, for any of us who want to follow in her footsteps, you ask how is this even possible without losing your mind and failing a million times, and how to do you get started? Luckily, Michelle answered three questions by three amazing Vancouverites and managed to solve all my life problems. I thought I'd share since they might solve yours too! (All totally rephrased by me) When you just can't wait to save the world? Be patient.
Q1. Being born in the generation of "Go Girls"; when we were told that we can do anything and save the world, I often come to a reality check (more like reality crash) when adulting with a job or two, parenting children and a relationship/marriage come into play. Add in a little self-care time. and game over. When would you/how can you save the world?! (Asked by Yumi Mooney; The Company of Young Professionals Advisory Committee)
A1: Be Patient- with yourself. The best thing you can do to save the world is to build yourself, prepare yourself and explore your passions.
Mentor who? Mentor immediately around you.
Q2: Who were the best mentors in your life? Who and how can we mentor best? (Asked by Marshall Raymond Willows; Leaders of Tomorrow Mentorship Program)
A2: Michelle's mentors were her parents, teachers and adults who listened to her; made her feel like her ideas were important enough. Mentor at home first. Mentor your children. Make time to mentor youth in your circle- how do we do this? Schedule time to listen to them and their ideas. And always, mostly listen, with a couple of "mhmm"'s and "yeah, I hear you"'s.
Work/Life Balance? How to do it all?
Q3: How do you handle work/life balance? (Asked by Mandy Huynh; We for She Youth Advisory Committee)
A3: Well first of all it's not work/life balance. It's life/work balance, or else work will take up all your time. That's just the way it works. So, first, schedule in life, and then work, and be firm with yourself. If you say no to being on a panel or speaking at an event, everyone will live; it's really fine, they'll just ask the next person and you'll just do the next one you were meant to do. So, specifically, schedule in your family, kids school events, extra-curricullars, PTA meetings etc.; then your health and exercise; then girl-friends time, and then date-nights. Black out all of these dates and times and then schedule work around it. Invest time into organizing your life; putting your children, family and self first.
Besides these three gems, she reminded us that "confidence is a muscle you have to train". You will fail a million times, and you'll get back up; that's how you exercise confidence, you just go for it anyways, over and over again. ALSO, we need to educate ourselves and prepare ourselves. Wanting to change the world is not enough; being prepared to change the world is most important. To be prepared, we must know ourselves, educate ourselves in our histories and political systems, and engage heavily in our communities to create effective change. Yes, we can save the world! #freededucation
Oh yeah, and she said your vibe attracts your tribe, so be positive, good vibes only and choose to be happy, kind and good and build a circle of women like this around you. #yourvibeattractsyourtribe